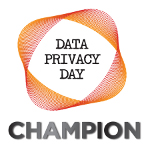 PACC is proud to be a 2018 #PrivacyAware Champion and will celebrate International Data Privacy Day on January 28 in partnership with StaySafeOnline.org and many other Data Privacy Day Champions.
We encourage the privacy, access, and data protection community to use the free resources and promotional tools available from the National Cybersecurity Alliance to create awareness about the importance of privacy and protecting personal information.
Individuals and organizations can sign up to become DPD 2018 Champions. You will receive a #PrivacyAware toolkit that can be customized and used to help you get the word out. Resources include a champion icon, infographics, draft media release, sample social medial messages, an email template, and access to customizable graphics. Best of all, everything is free!
Data Privacy Day is a great opportunity to encourage organizations in the public, private, and non-profit sectors to respect privacy, safeguard data and enable trust, and to educate people about privacy at home, at work and in the community.